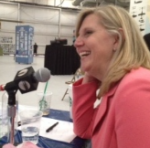 Fun stories, interesting topics and passionate guests!  It is our simple formula for Military Reunion Radio.
Cool destinations, reunion planning tips, celebrity guests, inspiring stories.  Past guests include, Emmy award nominated Actor Jack Scalia, veteran and warfighter activist, Boone Cutler,  9/11 Twin Tower survivor, Joe Torillo and Hollywood producer Kyle C Olson.
Recent Shows:
A visit with Melody Thomas about her LaQuinta Hotel in New Orleans.  She shares a brand wide veterans program that is amazing! Listen here.
Favorite show links:
(click here for a complete listing of shows and descriptions)
Have a story to tell? Send an email to info@reunionfriendly.com